With the increasing popularity of fitness competitions and high-intensity sports like CrossFit, the market for nutritional supplements has grown exponentially. Protein supplements such as Whey Casein protein are often consumed post-workout by athletes wishing to increase muscle mass to get the most out of their strength-training or resistance workouts. While most athletes have a preference of what type of protein supplement they prefer to use, it is unlikely that many know the biological mechanisms of how these supplements work, and the physiological differences between the various types. If you are wondering which type of protein you should consume after an intense workout, Paul T. Reidy and his team of researchers may have the answer for you.
The digestion of protein supplements increases the amount of available amino acids, which in combination with resistance exercise, changes the muscle's response to anabolic exercise by enhancing the transport rate of amino acids into muscles cells. Higher amino acid transport rates have been shown to contribute to increase muscle mass and strength.
Until Reidy et al. there had been no study on whether the type of protein supplements influenced amino acid transport rates or expression of amino acid transporters in skeletal muscles. Using muscle biopsies and blood samples of health, young adults, Reidy and his team examined the molecular effects of whey protein and soy-dairy protein blends on post-exercise muscles.
There are two popular types of protein supplements currently circulating in the market: Pure whey protein supplements and various forms of blend proteins. The blend protein used by Reidy and his team was composed of 25% soy, 25% whey, and 50% casein, meaning that the supplement has several different digestion rates, whereas pure whey protein is digested fairly rapidly and all at one time. Importantly, this suggests that the length of time that amino acid transporters will be activated is longer in the blend supplement than the pure whey supplement.
Gold Standard Whey
. Digital image. www.nutraplanet.com. 22 Aug. 2011. Web.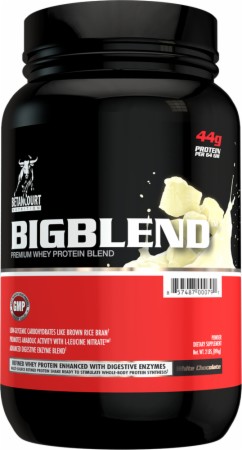 Big Blend Protein Powder
. Digital image. www.bb2k.blogspot.com. 25 Feb. 2015. Web.
Interestingly, Reidy and his team found several significant differences in the manner in which pure whey and blended affected amino acid transport in muscle cells.
While both types of protein sources showed increased skeletal muscle amino acid transport and higher numbers of amino acid transports, the overall muscle protein anabolism (tissue synthesis) was greater when the participants consumed the protein blend. Whey protein promoted the greatest amino acid transport quickly after consumption of the supplement (1-2 hours after ingestion), whereas the protein blend had a longer-lasting period of amino acid transport, which peaked at 2-3 hours post-ingestion. The extended amino acid flux found in the protein blend is likely due to the combination of intermediate digestion of the soy and a much longer digestion of the casein.
Interestingly, the average amino acid transport over the whole time period was similar between the two protein types, suggesting that while the amount of muscle mass created might be the same, the mechanism of adding the mass differs between the two supplements.
Expression of enzymes that are key markers of muscle protein breakdown were enhanced for both supplement types; however, the amount of the enzymes was much less than the enzyme concentration found in participants who did not consume any supplement after exercise, which could indicate that the supplements were also important for muscle turnover.
Reidy and the team suggest that the increased muscle protein anabolism is most likely due to increased and elongated translation of transporters and proteins important for muscle synthesis, such as myofibrillar proteins.
So remember, next time you are looking to bulk up and go to your local vitamin or nutrition shop, you might want to consider getting a soy-dairy protein blend. Not only will you get the most out of your supplement, it is also often quite cheaper!
References:
Reidy, P.T., Walker, D.K., Dickinson, J.M., Gundermann, D.M., Drummond, M.J, Timmerman, K.L., ... Rasmussen, B.B. Soy-dairy protein blend and whey protein ingestion after resistance exercise increases amino acid transport and transporter expression in human skeleton muscle.. J Appl Physiol, 116 (11): 1353-64 (2014).