The National Institute of Health discovered that more than one million mild traumatic brain injuries occur each year within the United States. Professionals take these cases seriously because the human brain is the command center of the body. Although it is surrounded by a protective, bony shell and fluid that has the ability to absorb impact, the brain is composed of soft, sensitive tissues. Of the one million mild traumatic brain injuries, more than half occur in children participating in organized athletic events. Common symptoms of concussions, a form of mild traumatic brain injury, include: loss of consciousness, headaches, amnesia, nausea, dizziness, confusion, balance and memory impairment, and light sensitivity, along with many others. With a recent dramatic increase in diagnosed concussions in athletes, researchers have set out to understand the effects of repeated head trauma, while also discovering potential biomarkers to properly detect brain injury.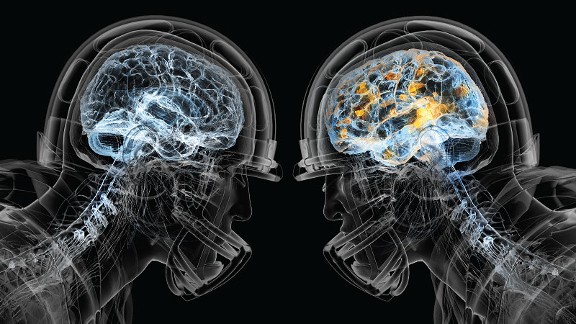 Neurological Testing for Concussions. Digital Image. http://espn.go.com/espn/otl/story/_/id/8297794/neuropsychological-testing-concussions-not-panacea
Bernick et al. gathered two-hundred and twenty-four fighters and twenty-two controls to participate in the Professional Fighters Brain Health Study (PRBHS). After gathering how many years each participant had engaged in fighting and how many fights per year, they underwent computerized cognitive testing and volumetric brain MRI. Cognitive testing examined memory, finger tapping, and symbol digit coding skills, while the MRI acquired the volumes of each structure in the brain. The goal of this experiment was to study the relationship between exposure to repeated head trauma and measurements of brain structure and function, along with cognitive performance.
They discovered that repetitive head trauma is associated with lower brain volumes and lower processing speeds among the studied professional fighters. The MRI showed lower volumes in various structures within the cortical and subcortical area, particularly the thalamus and caudate. Therefore, brain function is vulnerable to volumetric loss. The thalamus relays sensory and motor signals to the cerebral cortex, therefore if affected, neurological functions may be diminished. A blow to the head also results in axonal injury in white matter tracts, which can lead to possible neuronal loss in subcortical grey matter structures. In other words, if signals are unable to travel down an axon of a neuron, then the cell all together is almost incapable of sending information.
In terms of the cognitive aspect of this study, processing speed was correlated with reduced volume in brain structures. Also, processing speed was lower in participants who obtained higher Fight Exposure Scores (FES). FES accounts for cumulative number of fights and intensity of exposure (number of fights per year). It is possible that this test will provide a useful means when determining future cognitive impairment and/or future retirement plans regarding neurological damage in sports. One important future implication Bernick et al. suggested was potential biomarkers of brain injury, which could provide advances in detecting head trauma in athletes and all humans.
Pham et al. recently discovered plasma soluble cellular prion protein (PrPC) as a potential reliable biomarker in rodents. A biomarker has the ability to assist in detection of brain injuries, especially when no obvious physical injury is noticeable. This scientific advancement has the potential to properly diagnose humans who have experienced a form of head trauma.
Athletes and non-athletic students between the ages of eighteen and thirty year-olds were recruited and evaluated. Normal values for the plasma soluble PrPC were recorded in both gendered participants. Pham et al. determined plasma soluble PrPC were significantly higher in students who were confirmed to have experienced a concussion than the normal values in young adults.
With that being said, the study proposed that this biomarker could potentially be used for neuroinflammation and encephalitis, also known as acute inflammation of the brain. Although it is prominently found in the central nervous system, which includes the brain and spinal cord, recent evidence indicates that PrPC has that ability to cross the blood brain barrier in a bidirectional manner. Therefore, soluble PrPC concentrations can be determined in multiple locations within the central nervous system. The study also noted that there were no significance between genders and different age groups of young adults. This means there is no gender and age variation in human plasma PrPC concentrations, which supports the conclusion that it is indeed an ideal biomarker for brain trauma.
The future of sports medicine is focused on head trauma in athletes as high-contact sports experience an increase in sports-related concussions each year. Bernick discovered the association between repeated head trauma among professional fighters and the result of smaller thalamic volumes and slower processing speed. Pham et al. then revealed a potential biomarker in determining sports-related concussions, plasma soluble cellular prion protein (PrPC). Both studies have further developed a clinical diagnostic tool to assist clinicians in diagnosing concussions and return-to-play decision making among athletes.
Bernick, C., Banks S.J., Shin W., Obuchowski N., Butler, S., Noback M., Phillips M., Lowe M., Jones S., Modic M. Repeated head trauma is associated with smaller thalamic volumes and slower processing speed: the Professional Fighters' Brain Health Study. Br J Sports Med 0:1-6 (2015).
NIH News in Health. A bang to the brain: what we know about concussions. National Institute of Health. (May 2013).
Pham N., Akonasu H., Shishkin R., Taghibiglou C. Plasma soluble prion protein, a potential biomarker for sport-related concussions: a pilot study. PLoS ONE 10(2): e0117286 (2015).